How did we get to the TOP 10 in Google search results in 3 months with a new website? How did we go about it and how can you get on the first page of search too? You will find the answer in this case study.
The right keywords are fundamental
It is good to optimize pages for keywords that are not very competitive. At the same time, these keywords must be highly relevant to your product or service. We have launched Bzoomer in Germany very recently. We looked at the searched keywords and the competition that was in the search. For this you can also use our free SERP analysis.
We focused on the keyword "hochwertige backlinks kaufen"
Thanks to SERP analysis you will learn about the strength of competitor's website compared to yours. We were not at the best position as you can see. On the other hand, it was not an unsolvable situation.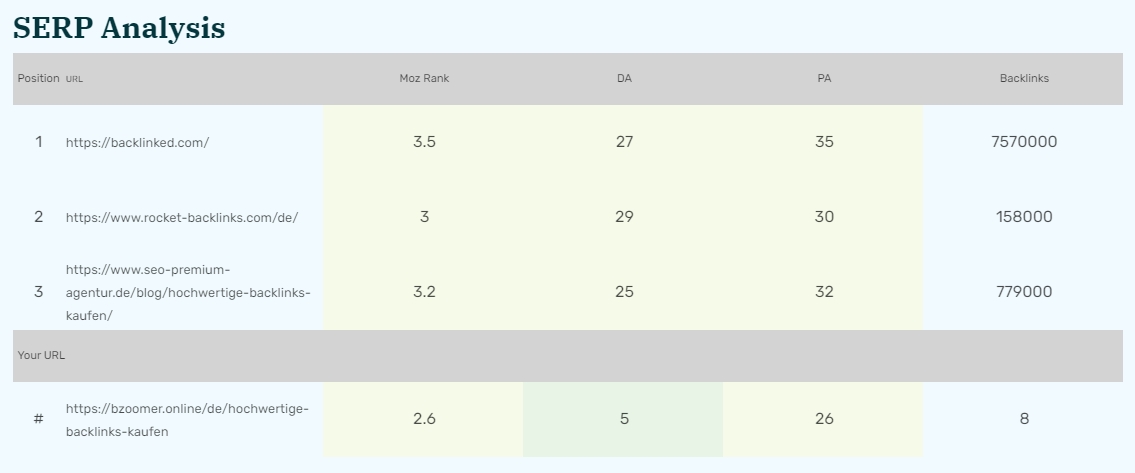 On-page SEO
For a good ranking you need to put a keyword on important places on your website.
The most fundamental are:
- Url adress – there should be a keyword. As you can see our URL https://bzoomer.online/de/hochwertige-backlinks-kaufen meets this.
- Page title and meta tags – the title should include the keyword as well. Likewise in a meta tag such as description.
Our headline: Hochwertige Backlinks kaufen! DA 40+ HQ SEO backlinks
Our caption: Verbessern Sie Ihre Position mit hochwertigen Backlinks. Das SEO-Tool Bzoomer baut für Sie Backlinks auf.
- Main heading H1 – critical to success.
Our headline: Hochwertige Backlinks kaufen
- Page content – Other texts and images should already follow from the situation. You are supposed to create the entire content primarily for the visitors of the page. From this you will also automatically create relevant text for bots. Of course, it is also a good idea to use the keyword as an image headline and at other places. It is not absolutely essential for success. It is essential to focus on the visitor so that he gets exactly what he is looking for and you keep him on the website for a long time, ideally until the purchase.
Off-page SEO
Link building as a difference between success and failure. Everybody tries to do the majority on the page. Every other tunes the keywords on their site. Link building is only done by a fraction of webmasters and marketers.
Ho to do link building?
Let's look again at the SERPs and see our competition above. Do not be put off by the absolute number of competition points. This includes all links pointing to a given URL (both internal dofollow and nofollow) the homepages of the most organically linked domains have the highest numbers. At the same time, the total number of decisions is not the most important thing. Google adds importance to decisions over time. This means that 10 new links can beat several hundreds acquired a year ago. Search engines want up-to-date websites that are trendy. Trending sites are referenced now – not a year ago.
Other metrics like Moz Rank, DA or PA will give you a comprehensive overview of how much it takes to get to the first position. Outside of the DA values, you can see that we are not that far behind. Our DA is lower because we have a new domain, and the DA rating favours older domains with history.
SERP analysis can have a much more important role for you in how you look at the content of the competition. The first 3 pages are primarily what people are looking for. Judge for yourself if you have comparable or even better content. If so, you'll only need a few links to move higher. If you follow the on-page rules described above, it will be enough for you to create a few quality links.
We created links using Bzoomer as part of the DEBOOST package and added 2 months repeat. (Targeting packages are sorted by a real person who always distributes articles to diverse domains to make the portfolio as strong as possible).
The campaign had the following parameters:
URL: https://bzoomer.online/de/hochwertige-backlinks-kaufen
Keywords: Hochwertige Backlinks kaufen
Category: Marketing
Language: German
Packages on Bzoomer are intentionally built in multiple layers. It is not natural for 1 URL to get a total of 6,000 links in a few days. (If you have a website the size of ebay, then it is natural). Therefore, multi-layered schemes are created where only a few links point directly to your site. The other links are interconnected in the lower layers from various domains. Links pass each other link juice all the way to your website.
What are the results?
In practice, we gradually worked our way up to the TOP 10. You can see the progress below. So far, our best position was at number 5.  In time, as our DA and other values increase thanks to link building, we will try to get into the TOP 3. Of course, it is still necessary to add a maintenance link here and there. Campaign starts are rated by points. You can see the time delay of the progress of the positions. This is because it takes some time to create all the links in the campaign. The indexing of search engine crawlers will also take more time. Links are indexed by search engines within weeks of publication. 

Recommendations for you
Always create one page of your website ideally for just 1 keyword or a few very similar keywords. Likewise, create link building campaigns. Links from other sites tell search engine bots what they are likely to find on your URL.
Similar keywords for us could be:
Backlinks kaufen
Hochwertige Backlinks
That's it!
We will not add other keywords that are thematically related but are simply different. Keywords like link building, SEO, etc. are already too distant and should have their own page. This applies to services as well as products, which is why most e-shops only have one product on the product page. And that is correct.