Why do some pages appear in the top positions in Google search and others don't? How can your page reach the top position? This is exactly what this article is about. I will focus on 20% of the most important things that will bring you 80% of the results. 
How to get website to the TOP 5 in Google?
Our customer (Czech Coffee roastery) appears in the TOP 5 on several key phrases. In this case, I will focus on the keyword: 'Specialty coffee' (Výběrová káva in czech). If you also want to be at the forefront of your site, follow these rules: 
1. Headline
The main H1 headline of our sites contains exactly the keyword that people enter into the search engine. Therefore, this page is considered highly relevant to search engines and if they decide to index it, they will certainly offer it to search engine users as well. We also have the keyword in the page title, menu and in the page text. 
2. URL
When you look at URL of this page (see image above), you can see our keyword as well.
Placing keywords in URL is another element that makes your site more relevant to search engine robots.
3. Unique content which catches attention
There must be a good content on your websites which catches attention of the readers. You can do this by giving the users exactly what they are looking for. Search engines have a Bounce rate as a key criterion. This is a metric that evaluates how much time a user spends on a given page. If he leaves it right away, he didn't find what he was looking for. One usually spends a longer time on the page when he finds what he is looking for. That is a good sign for search engines.
Many people try to place their website with such keywords that are not relevant for the content on their sites. This is a stumbling block for many websites. In other words, people want to see different content to a given keyword than you think. How to prevent this? Simply enter your keyword in the Google search at first and look at the first 10 pages that come up. What content is displayed? Are those product pages or e-shop categories? Are those blog pages? Basically, these are the sites that people want to see most of the sites available on the internet. Then ask yourself whether you can offer such or even better content. If so, you have half the battle won.
4. Faster wins
The loading speed of your websites is related to the previous point or the Bounce rate metric. People don't want to wait. If your site doesn't load in a few seconds people leave and it makes your Bounce rate metric worse. You can see how the Bounce rate increases depending on the page loading speed in the picture below.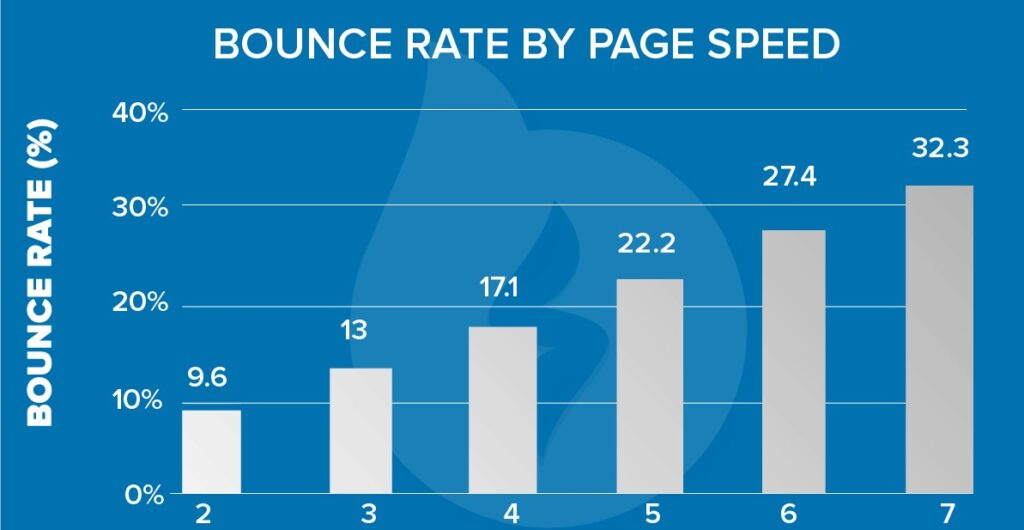 5. Backlinks
If you keep the previous 4 points you are well on your way to the first position in the search. However, 9 out of 10 webmasters don't do one of the most important things which is building backlinks. It is great opportunity for you if you start building backlinks.
Why does you page need backlinks?
Search engines need to know about your site to index the site
Search engines will give your site a higher ranking than the competition f you get more quality backlinks to your site. Search engine crawlers see backlinks to your site as recommendations. Simply the page that is recommended by many others will be of a good quality. However, backlinks will be of no use to you if you skip the previous 4 points. Not even all links in the world will help you if you have content on the web that the user is not looking for.
How many backlinks do you need?
The number of backlinks depends on your competition. If you have a page with perfect content for your keyword, then only backlinks keep you back from the top position. You need at least as many backlinks as your competitor's page which is on the top position already. How do you find that out? There are many tools for comparing pages in search results. You can try our free SEO analysis tool.
I looked at the SERP results on the key phrase: 'Specialty coffee' (Výběrová káva in czech language) when I was working on the website for Fiftybeans.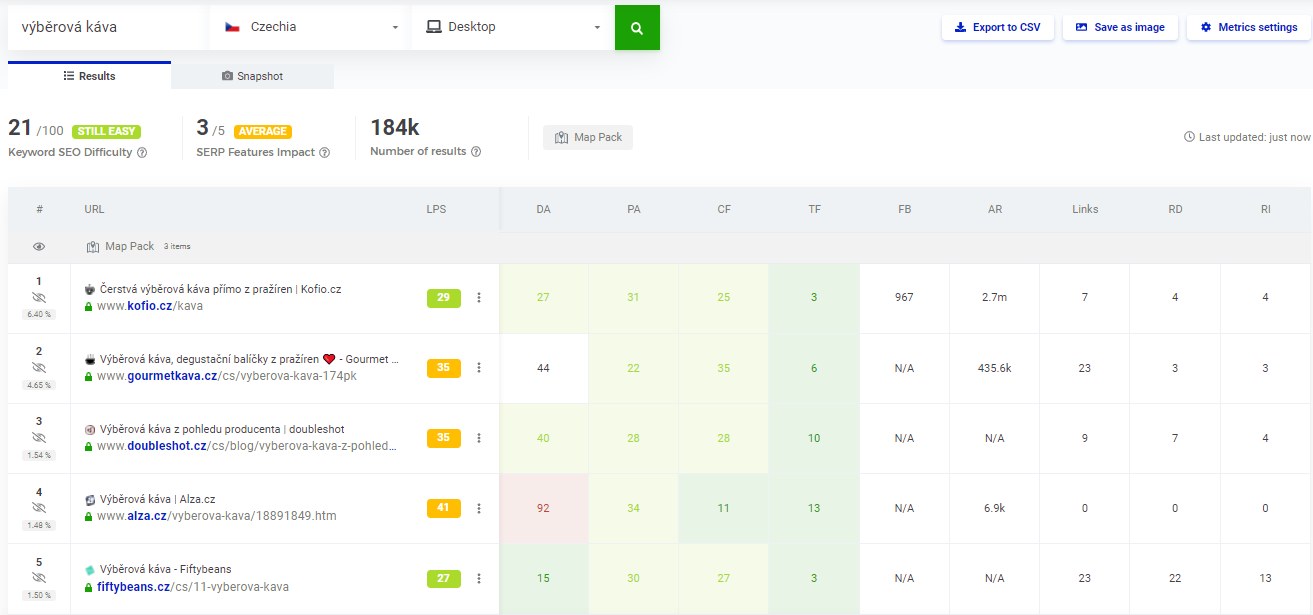 SERP analysis can be assessed from several perspectives. I was interested in the content of the competition's pages and other metrics related to the links when creating the e-shop. There were websites with a relatively low DA and a low number of backlinks in the first positions. Thanks to that, 23 links from 22 domains were enough for us in the fifth position (see the picture above). You may notice that our DA is low because the client didn't think about linkbuilding before. In addition, we were working on a new e-shop with new URLs. However thanks to the links we have increased the value of PA and thanks to that we have become competitive. By continuing in linkbuilding on other sites and thus ranking higher in search engines, the value of DA will automatically rise.
However, if there were pages in the SERP with similar content like ours and at the same time had a high number of backlinks and high DA values, then it would not make sense for us to create a page (or optimize it dramatically). I would probably never reach the first position due to a lot of competition or it would cost me a lot more resources than the resulting utility would be. Therefore, start the SERP analysis before creating the page itself.
NOTE: It is very important to first find out the search for your keywords. There is no point in optimizing your site for words that no one is looking for.
What do the individual parameters mean?
DA - Domain Authority is a search engine ranking score developed by the company Moz that predicts the probability of a site being ranked on a search engine results page (SERP). The domain authority score ranges from 1 to 100, with a higher score corresponding to a higher placement probability.
PA - Page Authority is a score also developed by Moz that predicts how well a particular page will be ranked on a search engine results page (SERP). The site's authority score ranges from 1 to 100 with a higher score corresponding to a higher rating.
CF - Citation Flow is a measure of a URL's influence based on how many sites link to it.
TF - Trust Flow is a measure of URL's influence based on the quality and authority of the pages that link to it.
FB is the number of shares on Facebook.
AR - Alexa rank is a worldwide ranking system that ranks millions of websites by popularity. It is calculated based on the estimated average number of unique visitors and pageviews of the site over the last 3 months. The lower your Alexa rating, the more popular the web.
Links - The number of external links pointing to your site by Majestic.
RD - The number of referring domains to your site.
RI - The number of referring IP addresses to your site.
How many backlinks did I need for the keyword 'specialty coffee' to be on the fifth position?
The site needed to be linked to our website. Internal linking will help search engines to understand what they find on the page while at the same time speeding up the indexing of the page by the search engine. We subsequently built these links with Bzoomer:
Week 1 - Premiant package (3x Wiki 2.0 links DA10+, 3x Blog 2.0 links DA20+, 1x Blog 2.0 link DA60+ all supported by other 2000+ links in lower layers)
Week 3 - 3x New articles - domain min DA 20
Week 7 - Expert package (4x Wiki 2.0 links DA10+, 4x Blog 2.0 links DA20+, 2x Blog 2.0 link DA60+ all supported by other 3000+ links in lower layers)
Week 9 - 2x New articles - domain min DA 40
What are the results?
We launched the e-shop in February. It took a while for any organic traffic to come. This can happen due to the slower indexing of search engine robots that find links gradually over time.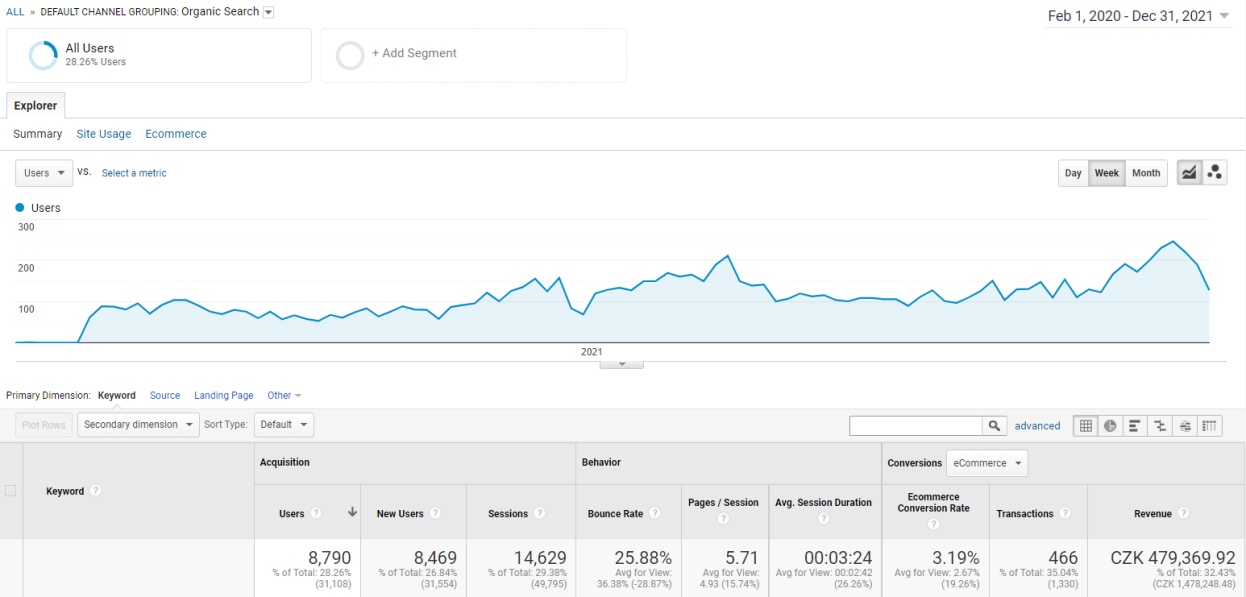 The results above are for the period 02/20-12/21. The total cost of link building did not exceed 10% of the final sales of 479,000 CZK. The highest cost was in the beginning. Now all you need is the maintenance frequency of links, which is no longer so expensive. At the same time, we still have a room for improvement and sales growth, because we are in the TOP 10 for many relevant terms and only in the TOP 30 for others.